Low Phase Noise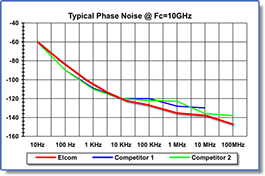 Lowest phase noise in a direct fast synthesizer: -147 dBc @ 100 MHz offset with -68 dBc Spurs.
Best phase noise of Phase-Locked CRO: -125 dBc offset 100 KHz from 20 GHz signal.
Zero phase hits technology that provides continuous secure communications in severe environmental conditions (temperature, shock and vibration).
Fast Switching Synthesizer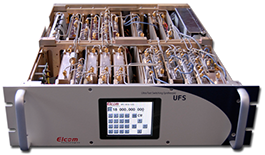 FPGA based DDS with 100 nanoseconds, Ultra-Fast tuning speed, and 1 Hz phase-coherent step size employing 1 GSPS 14 bit DAC.
Direct analog/DDS fast tuning multi-octave (up to 0.3 to 40 GHz) with 250 nanoseconds switching speed.
Phase coherent switching permits multiple emitter simulation.
Small size ruggedized VCO based PLL synthesizers feature fast 5 to 50-microsecond tuning, very low phase noise.
RF-DSP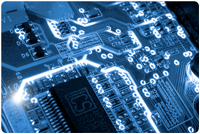 100 dBFS dynamic range RF/DSP optimized RF to reconstructed IF output (NF<14 dB, IIP3<10 and 16 bit 100 dBFS ADC)
Covers HF (0.01 to 30MHz), VHF/UHF (20 to 3000 MHz) and MW (0.5 to 40 GHz).
Fast tuning VCO based synthesizer provides very low jitter and best reciprocal mixing rejection for best interference and jamming suppression
Adaptive Noise Riding Squelch permits faster search and eliminating false detection of low signals.
Up to 80 MHz real-time BW for VHF/UHF operation.