Commitment to Quality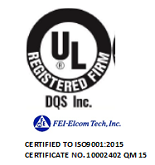 We are committed to providing our customers with the highest quality products possible. FEI-Elcom Tech, Inc.'s QA Department is involved in all stages of the product lifecycle, from product design specification, through product development, testing, production, and product revisions. All of our design, procurement, manufacturing, test, inspection, and general business processes are documented, measured, controlled, and continuously improved per ISO 9001:2015. The keystone of our corporate quality strategy is to cultivate a work environment where all of our employees understand that quality, reliability, and customer satisfaction should be the focus of all our day-to-day activities.
Elcom's Quality Policy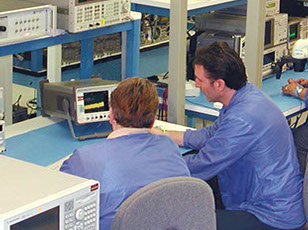 FEI-Elcom Tech, Inc. is committed to achieving customer
satisfaction providing quality products through
Accountability
Continuous Improvement
Teamwork
The Elcom Quality Policy requires that each Elcom employee embrace the principles in the acronym ACT described above. Each Elcom employee is Accountable, must Continually strive to Improve product and processes, and Team with fellow employees and customers to achieve customer satisfaction.
Inspection and Test Processes
New product development requires complete design verification to customer specifications before release to production. This design verification cycle typically includes HALT (Highly Accelerated Life Testing) to determine if product margins and reliability are sufficient prior to production release.
As a supplier to Department of Defense Agencies, Prime Defense contractors and worldwide (US Allied) defense organizations, Elcom has implemented many processes based on AS9102 including First Article Inspection and Foreign Object and Debris (FOD) prevention and detection.
All products are 100% functionally tested and inspected during the production process including ESS (Environmental Stress Screening) or HASS (Highly Accelerated Stress Screening).
Quality Assurance performs a final product performance audit before products are shipped to the customers.
Elcom Customers may require Design Reviews, on-site source inspection, a government source, First Article Acceptance Testing, Pre-cap inspection, etc. Elcom welcomes this interaction with its customers as it builds both confidence and teamwork and ultimately improves the understanding of critical customer requirements and Elcom capabilities.
Certifications
FEI-Elcom Tech's quality programs have been audited and certified to comply with ISO-9001:2015 since 2018.
Workmanship, Inspection and Test Standards:
IPC-A-610E, Class 2 and 3, Standards
FEI-Elcom manufactures RF systems and sub-systems to IPC-A-610E, Class 2 and 3, Standards. All Elcom assemblers and QA Inspectors are certified to IPC-A-610E and receive annual training in required skills. Elcom QA has a Certified IPC Trainer (CIT) on staff to allow for easy training and recertification as needed.
Assemblers are NASA 8739.2 certified and a NASA level B instructor (IPC-A-610 CIT) is
also on site.
MIL-HDBK-454, MIL-STD-202, MIL-STD-461, MIL-STD-810, RTCA/DO-160
Elcom manufactures products for the defense sector conforming to MIL-HDBK-454 which are tested or inspected to standards such as MIL-STD-202, MIL-STD-461, MIL-STD-810 and RTCA/DO-160 (Safety of Flight) among others.
Warranties
The standard warranty on FEI-Elcom Tech products is 12 months. If a product fails during the warranty period, it will be repaired free of charge. Extended warranties are available with an additional charge.
After the initial standard 12-month manufacturer warranty period expires, repairs made will be charged on a time and material basis. For most products, an initial evaluation fee will be charged to assess the unit, and the customer will be advised regarding repair costs prior to the work being performed. Please see the detailed RMA procedure below.
Please refer to the RMA CUSTOMER PROCEDURE for guidelines on returning materials for repair. Read more in our RMA Customer Procedure.
A Returned Material Authorization (RMA) number can be obtained by first submitting an RMA AUTHORIZATION FORM to [email protected]
Prior to shipment a RETURN TICKET must be completed and attached to the box.
Should you have any questions, feel free to call the Customer Service department at 201-767-8030 X 280